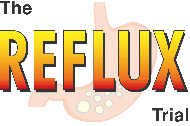 The REFLUX trial, funded by the NIHR HTA, is a multi-centre randomised trial comparing a policy of relatively early laparoscopic surgery with a continued best medical management policy for people with more severe gastro-oesophageal reflux disease (GORD).
810 people with GORD were recruited from 21 centres across the UK - 357 into the randomised component, and 453 into the patient preference component of the trial.  The one year results showed benefits for fundoplication in terms of condition-specific measures of outcome and of the EQ-5D at one year post-surgery.  Extended follow-up to five years was carried out to evaluate the longer term clinical effectiveness and cost-effectiveness of early laparoscopic surgery compared with continued medical management. 
After five years, early laparoscopic surgery continued to provide better relief of GORD symptoms and a better quality of life than medical management. Adverse effects of surgery were uncommon and generally observed soon after surgery. A small proportion had re-operations. There was no evidence of long term adverse symptoms caused by surgery. Despite being initially more costly, a surgical policy is highly likely to be more cost-effective for such patients suffering from chronic GORD.
Contacts
Status
Completed
Publications
Grant A, Boachie C, Cotton S, Faria R, Bojke L, Epstein D, Ramsay C, Corbacho B, Sculpher M, Krukowski Zh, Heading R, Campbell M. Clinical and economic evaluation of laparoscopic surgery compared with medical management for gastro-oesophageal reflux disease: 5-year follow-up of multicentre randomised trial (the REFLUX trial), Health Technology Assessment Volume: 17 Issue: 22. https://www.journalslibrary.nihr.ac.uk/hta/hta17220#/abstract
A M Grant, S C Cotton, C Boachie, C R Ramsay, Z H Krukowski, R C Heading, M K Campbell, the REFLUX Trial Group.  Minimal access surgery compared with medical management for gastro-oesophageal reflux disease: five year follow-up of a randomised controlled trial (REFLUX). BMJ 2013; 346.  http://www.bmj.com/content/346/bmj.f1908
Faria R, Bojke L, Epstein D, Corbacho B, Sculpher M; REFLUX trial group.  Cost-effectiveness of laparoscopic fundoplication versus continued medical management for the treatment of gastro-oesophageal reflux disease based on long-term follow-up of the REFLUX trial.  Br J Surg. 2013 Aug;100(9):1205-13. http://onlinelibrary.wiley.com/doi/10.1002/bjs.9190/abstract
Grant A, Wileman S, Ramsay C, Bojke L, Epstein D, Sculpher M, Macran S, Kilonzo M, Vale L, Francis J, Mowat A, Krukowski Z, Heading R, Thursz M, Russell I, Campbell M on behalf of the REFLUX Trial Group.  The effectiveness and cost-effectiveness of minimal access surgery amongst people with gastro-oesophageal reflux disease - a UK collaborative study.  The REFLUX Trial. Health Technology Assessment 2008; Vol 12: No 31
Grant AM, Wileman SM, Ramsay CR, Mowat NA, Krukowski ZH, Heading RC, Thursz MR, Campbell MK and the REFLUX Trial Group.  Minimal access surgery compared with medical management for chronic gastro-oesophageal reflux disease: UK collaborative randomised trial.  BMJ 2008;337:a2664
Epstein D, Bojke L, Sculpher MJ and the REFLUX trial group.  Laparoscopic fundoplication compared with medical management for gastro-oesophageal reflux disease: cost effectiveness study.  BMJ 2009;338:b2576