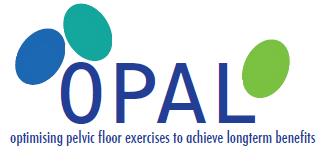 OPAL is a multi-centre trial, funded by the NIHR HTA Programme comparing basic pelvic floor muscle training (PFMT) versus biofeedback-mediated intensive PFMT. The aim of the study is to investigate whether biofeedback-mediated intensive PFMT is more effective and cost-effective than basic PFMT for the treatment of female stress or mixed urinary incontinence.
Six hundred women were randomised into OPAL – either to basic PFMT or biofeedback-mediated intensive PFMT.  Women were offered six appointments with a therapist over 16 weeks to receive their allocated treatment.
Women were followed up for 2 years.  The primary outcome was urinary incontinence severity at 2 years.   There was no difference between biofeedback mediated intensive PFMT and basic PFMT.  At 24 months, biofeedback pelvic floor muscle training was not significantly more expensive than basic pelvic floor muscle training, but neither was it associated with significantly more quality-adjusted life-years.  Women were positive about both interventions, adherence to both interventions was similar and both interventions were facilitated by desire to improve their urinary incontinence and hindered by lack of time.
The trial was led by Prof Suzanne Hagen based at Glasgow Caledonian University.
Contacts
Status
Completed
Publications
The results are published in The BMJ https://www.bmj.com/content/371/bmj.m3719 and in Health Technology Assessment https://www.journalslibrary.nihr.ac.uk/hta/hta24700#/full-report