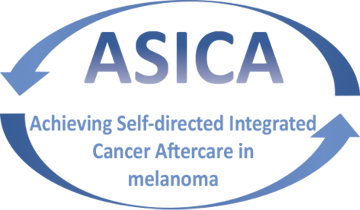 The ASICA (Achieving Self-directed Integrated Cancer Aftercare) digital intervention supports high quality total skin self-examination (TSSE) by people with cutaneous melanoma, and appropriate clinical responses when they raise a concern. It is rigorously developed, digitally-supported and theoretically-based app, using specified behaviour-change techniques to prompt users to perform regular TSSE. By enabling prompt recognition and treatment of recurrent and new primary melanomas, ASICA may enable earlier treatment and improved outcomes for patients and the NHS.
The ASICA study, funded by Cancer Research UK, is a two-arm, open multi-centre randomised controlled trial (RCT) comparing a digital intervention to increase TSSE by people treated for melanoma with usual follow-up in 240 participants.
The primary outcome is the impact of receiving ASICA on Melanoma Worry Scale, anxiety and depression (HADS) and quality of life (EQ-5D) up to 12 months following randomisation.
The ASICA study is led by Dr Peter Murchie based at the University of Aberdeen.
For more information please see the ASICA Study Website
Contacts
Status
Ongoing - In analysis/writing up